Croazierele de lux reprezintă o ramură relativ recentă a turismului, însă una cu o creştere imensă în popularitate. Organizaţiile de profil anunţau la începutul anilor 2000 că, în comparaţie cu anii 1970, numărul de persoane care au optat pentru o vacanţă pe vas a crescut cu peste 1000%.
Piaţa de profil creşte din ce în ce mai repede, astfel că operatorii de croaziere sunt motivaţi să construiască vase imense, pentru a putea răspunde cererii. Aşa a apărut MS Allure of the Seas, cel mai mare vas de pasageri din istorie.
Allure of the Seas - gigantul Caraibelor
Royal Caribbean a comandat în 2006 două noi vase de croazieră, intenţionând ca acestea să deţină împreună titlul de "Cel mai mare vas de pasageri". Oasis of the Seas, vasul-geamăn al Allure of the Seas, a fost terminat în 2009, cu un an mai devreme decât cel de-al doilea. Când a fost finalizată construcţia vasului Allure of the Seas, s-a descoperit la măsurătorile oficiale că această navă este cu 5 centimetri mai lungă decât Oasis of the Seas, deşi cele două ar fi trebuit să fie identice.
Măsurând 360 de metri în lungime, 64 de metri în lăţime şi cu o punte situată la 65 de metri deasupra apei, Allure of the Seas este un adevărat gigant.

Iată planul vasului (click pe imagine pentru mărire):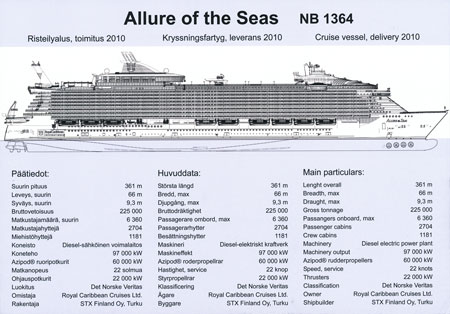 Gigantul Allure of the Seas poate transporta 5.400 de pasageri, numărătoare ce nu include tot personalul necesar pentru a satisface nevoile şi dorinţele turiştilor. 2.384 de persoane din 80 de ţări (printre care şi România) lucrează pentru confortul pasagerilor. Spre comparaţie, celebrul Titanic putea găzdui doar 3.547 de persoane, incluzând echipajul.
La bordul vasului se utilizează în fiecare zi peste 2.100 de tone de apă potabilă, iar suprafaţa totală acoperită de instalaţiile de aer condiţionat se ridică la aproximativ 150.000 de metri pătraţi. Nava a fost construită din 500.000 de elemente, fiind nevoie de 600.000 de litri de vopsea pentru a-i da aspectul final. La bord există 241 de km de ţevi şi 5.310 km de cabluri electrice.